Inspired Dance
Inspired Dance classes will energize you with expressive cardiovascular conditioning using dance and martial arts, and also help you relieve stress and improve flexibility through yoga and mindfulness techniques. The best part is, you don't need a background in any of these forms, nor do you need to have amazing coordination to participate. The whole class is one beautiful flow, from beginning to end.
You'll dance to inspiring music from around the world – latin, african, funk, middle eastern, pop, bollywood, and beyond.

Come explore your movement potential in a safe and energizing group environment.
How do I sign up for Inspired Dance classes?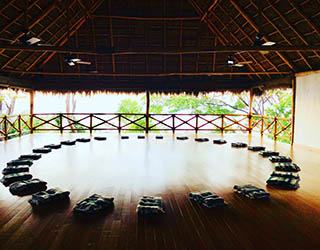 testimonials
"Vickie is an inspired teacher, who creates meaningful and memorable learning for every student in her care. She artfully brings her curriculum to students and they respond to her teaching with joyful engagement. As a teacher, she is exceptionally perceptive and skillful. She has a well-developed interpersonal intelligence. She listens to the students as she teaches, monitoring, adjusting, and inspiring them to find their own growth edge. Vickie is bright, positive, and committed to improving Wellness experiences for children and adults."
~ Jane Stickney
---
"Vickie awoke in me the start of increased awareness and I became more aware of my body and the many benefits of movement. This opened me up to being more aware in life. It is through my experiences with Vickie that I was inspired to become certified to teach Nia."
~ Tony Buscemi
---
"Five words that come to mind when I think of Vickie's classes: Exceptional, authentic, inspiring, creative, healing. Vickie's teaching style is the perfect balance of skilled somatic education blended with a contagious love for dance, healing, and community. Rarely do you find all of these qualities in one teacher. Through her Nia classes, I have awakened to new places within myself as she models so beautifully the art of self-love and self-awareness...not to mention top notch holistic conditioning. Vickie embodies what it means to teach by being a living example."
~ Allison Wright
---
"Vickie's gentle and insightful guidance have by far been the most important catalysts helping to restore a sense of peace and self-worth to my core. I have finally re-entered my body through movement inspired by her." After a long period highlighted by self-doubt, I am walking with confidence and self worth."