RETREAT DETAILS
Join Vickie Saito and Al Wright for 8 days and 7 nights of Nia, Yoga and meditation at Xinalani Retreat, an exclusive eco-resort located just 20 minutes from Puerto Vallarta, Mexico.
Move in stunning yoga spaces surrounded by nature as you immerse yourself in daily Nia and Yoga classes, MELT Hand and Foot Treatments, and movement workshops designed to rejuvenate and inspire body, mind and spirit.
Find sanctuary as you soak up the beauty and bliss of the ocean, indulge in a spa treat, detox in the sweat lodge, or relax at Xinalani's beach front restaurant. You can fuel your adventurous spirit by signing up for any one of Xinalani's jungle adventures or eco-tours available each day, including canopy zip lining, swimming with dolphins, jungle treks, and more!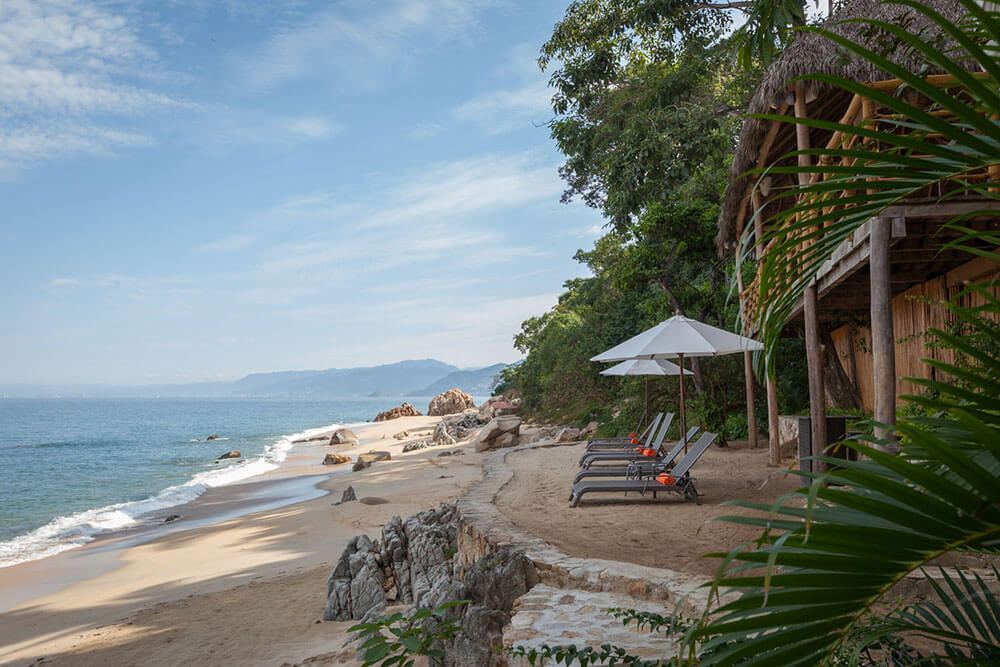 ACCOMMODATIONS
Your retreat fee* includes your accommodations, 3 meals per day, transportation to and from the airport, as well as all movement classes and workshops. The following room styles are currently available:
~ Eco-Chic Suite: Single occupancy - $3550 p/p
~ Eco-Chic Suite: Double occupancy - $2750 p/p
~ Petite Suite: Double occupancy - $2550 p/p
~ Deluxe Room: Single occupancy - $2655 p/p
~ Deluxe Room: Double occupancy - $2450 p/p
~ Small Palapa: Quad occupancy - $1850 p/p
All rooms are spacious, palm-thatched roofed cabins built on stilts. They were designed with and elegantly furnished by local artisans. You will love their calm and serene energy. All rooms have private bathrooms and ocean views. Make your reservation through Inspire Movement Arts, NOT through Xinalani.
---
TRANSPORTATION
One of the things that makes Xinalani unique is the fact that it's only accessible via water taxi. For your convenience, your transportation to and from the airport to Xinalani is included in your retreat fee. This includes transfer via taxi to the pier of API Terminal Marítima in Marina Vallarta (15 min) as well as transfer by boat from the Marina Vallarta pier to Xinalani (45 min).
You are responsible for booking your own airfare. Book an arrival flight that arrives no later than 4:00pm and a departure flight that takes off no earlier than 11:00am. Note: Please do not book your flight until your retreat deposit has been paid.
---
MENU
Set at the edge of the ocean and bordered by lush jungle, Xinalani's beachfront restaurant offers a healthy menu and a unique outdoor dining experience (expect to see whales and dolphins!). Your retreat includes three delicious healthy meals per day (vegetarian, fish, and chicken options offered) as well as a light breakfast option for early risers that offers a mix of granola, fresh fruit, Mexican coffee, and an assortment of teas. Our participants loved the food so much that many took a cooking class with Chef Mario.
---
REGISTRATION
Reserve your spot and desired accommodations by paying your Retreat Deposit of $500. Your full balance is due October 15, 2020. Do not book flights until you have registered and reserved your room!
Step 1: Pay your $500 deposit by clicking the REGISTER button at the top of the page. To pay by check, please mail directly to Inspire Movement Arts, 1499 Ash Street, Lake Oswego, OR 97034.
Step 2: Email inspiremovementarts@gmail.com with your preferred room accommodations. Upon receiving your payment, we will confirm room availability. Note: rooms are reserved on a first come, first serve basis. Roommates are available upon request.
Step 3: Pay your Final balance by October 15, 2020.
Note: Airfare, spa treatments, eco and adventure tours and alcoholic beverages are NOT included in retreat cost.
---
CANCELLATION POLICY
Cancellations 90 days or more prior to the retreat will incur a fee of $250. Cancellations 60 days or less prior to the retreat are non-refundable. Please note this is a 8-day retreat. If for any reason you leave early, there are no refunds on your retreat fee as your room has been reserved for all 7 nights. Retreat registrations cannot be traded or sold to other potential attendees.
---
QUESTIONS?
Contact us at inspiremovementarts@gmail.com
---
Date/Time

Saturday, January 23, 2021 - Saturday, January 30, 2021
All Day
---
Location

Xinalani Retreat Center
Playa Xinalani
Puerto Vallarta
---
Testimonials
"Excellence all around: instructors, classes, food, rooms, the beach, and most of all the people! That's why I'm returning in 2019!" ~ Kay Cook
"The combination of fabulous Nia, in breathtakingly beautiful nature, with deliciously healthy food made for a perfect get away. I signed up for the following year before I even left! It was magical." ~ Kira Hower
"I attended the Inspire movement retreat this past winter. The retreat center site and the amazing service and food were worth the trip itself. With that said the classes were the primary reason I decided to go back again. The flow was perfect - a lovely blend of movement and relaxation. I can't wait to go back and be with my Lovely Nia friends and sisters." ~ Robyn Maltz
"This Inspire Movement retreat in Xinalani was a true step away from winter into a beautiful, renewing experience in a magnificent setting. The leaders were welcoming and inspiring. Vickie, Allison, and Jill modeled kindness and collaborative leadership as they taught. The participants were each delightful and inspiring as we shared the Nia and Yoga classes, the meals and our stories." ~ Jane Stickney