Are you ready for a FUN Challenge?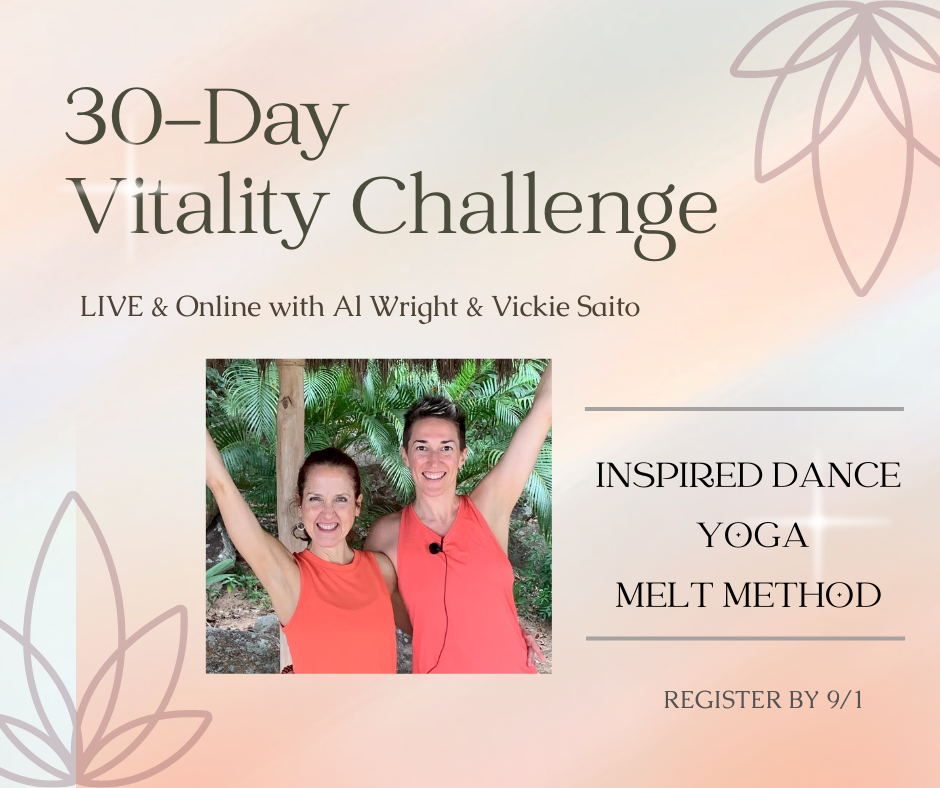 Vitality represents our life force, aliveness, and energy.


When our vitality is high, we feel strong and vibrant in our bodies.
We're emotionally open and inspired by life. Our mental clarity is sharp. And we feel a deeper connection with our spirit.


Come immerse yourself in a month of Inspired Dance, Yoga, and MELT where you will:

Reignite your self-care

Boost your passion for life

Dynamically increase your strength, cardiovascular conditioning, mobility, and flexibility

Ease chronic aches and pains

And inspire your WHOLE self


I know many "challenges" focus on an end goal.
This challenge is different.
It's all about the journey of prioritizing your vitality and well-being.


Here's how the challenge works:

You can choose from 5 classes Inspired Dance, Yoga, and MELT classes per week

All classes will be streamed through Zoom. Saturday's 9:00 am class will be a hybrid LIVE/online class.

Yoga with Vickie will be tailored for all levels (yes, it's great for beginners!)

Vickie will be adding a Wednesday 5:30 pm PT MELT Class

You'll have access to all class recordings on our Punchpass site throughout the challenge (so no worries if you miss a class)

We'll send you a weekly email with inspiration and tips related to that week's specific vitality focus


~ You can do the entire vitality challenge for just $99!


And, since Al and I want to inspire and grow our movement community,
any NEW friends you invite can do the challenge for $49 – for the entire month.


Of course, a challenge wouldn't be a challenge without a REWARD. The student who attends the most classes will get the entire month of October FREE.


Click here to sign up for the 30-Day Vitality Challenge


And kickstart September with a renewed dedication to your self-care.

Click JOIN THE CHALLENGE below to sign up.

We can't wait to see you there!
Al & Vickie


PS. Have friends who you think might be interested in the challenge?
Share this offer and they can select the $49 NEW student offer

PPS. Need MELT products? Reply to this email and we'll help you get ahold of em'